Orange Plus SR
Sitka Spruce / Indian Rosewood
Premium acoustic guitar made from solid woods.
High-quality AAA grade soundboard.
Proprietary design features and production technologies, including soundboard voicing, the revolutionary Furch CNR System® neck joint, and Full-Pore High-Gloss Finish.
Attractive appearance featuring white mother-of-pearl oval Eclipse fingerboard position markers, a distinctive rosette with concentric rings, and black walnut binding.
Heavy-duty Hiscox hardshell case.
Furch Orange Plus SR guitars are made from high-grade tonewoods. The soundboard features Sitka spruce, and the back and sides are made from Indian rosewood. Appointments are crafted from African padauk. Body binding features American black walnut with an added thin contrasting line, and the fingerboard is adorned by white pearl thin Eclipse circles. High-grade tonewoods and exclusive appointments translate into fine sounding instruments with stunning looks. The spruce soundboard translates into a bright timbre, and Full-Pore High-Gloss Finish enhances the full balanced sound that makes Furch Orange Plus SR guitars versatile multipurpose instruments.
Unique voicing process
The premium nature of Furch Orange Plus SR guitars is underscored by the fact that the soundboard is individually tuned using the voicing process, which enhances the guitar's tonal properties to the highest level. Thanks to that, Furch Orange Plus SR guitars have a crystalline clear, harmonically rich, balanced, and highly dynamic sound across the entire tonal spectrum.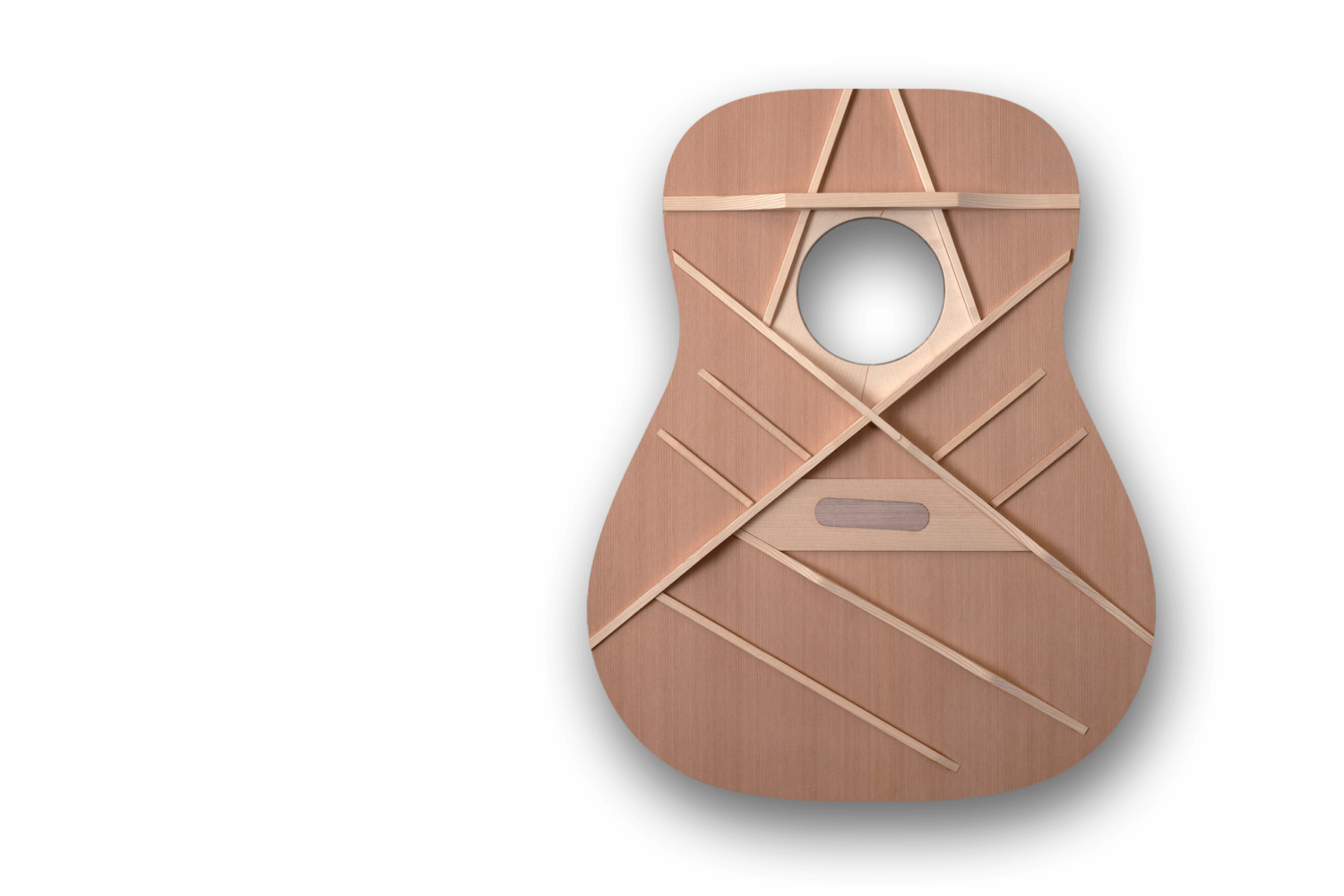 Attractive look
The attractive look of the guitar is underscored by body, headstock, and fingerboard binding made from black walnut, and a top adorned by padauk purfling with a black and white line.
Exceptional finish
Furch Orange Plus SR guitars are protected by our proprietary Full-Pore High-Gloss Finish, which has been developed to enhance the guitar's tonal qualities. The finish consists of an ultrathin layer of highly resistant lacquer that provides excellent surface protection and accentuates the structure of the wood at the same time.
Furch CNR System® Neck Design
A high precision, dual-action truss rod maintains neck stability and allows for fine adjustment of the neck relief, bilaterally. The truss rod is housed in a highly rigid carbon casing which enables a very smooth and controlled neck relief, ensuring the best playability and enduring optimal setup.
A fully adjustable dual-action truss rod for highly precise adjustment of the neck bow in both the convex and concave directions.
A highly rigid carbon casing that maintains the neck in the set position over a period much longer than is the case with standard neck joint designs and, at the same time, facilitates a gradual bow in the neck, a factor of essential importance for playability.
A casting made of special alloy located inside the neck heel that ensures a stable position of the neck and its angle vis-à-vis the body.
Transparent protection
The soundboard of Furch Orange Plus SR guitars is protected by a transparent pickguard that allows the natural beauty of the wood to shine through. The pickguard is designed to have no effect on the tonal qualities of the soundboard.
Rosette made of walnut
The soundhole is adorned by a rosette featuring a bold black walnut ring with a contrasting black and white line.
Pearl position markers
White pearl side position dots combined with Eclipse fingerboard inlays, featuring a thin white pearl contour line, improve fingerboard orientation and enhance the guitar's exclusive appearance.
Excellent machine heads
Furch Orange Plus SR guitars have an excellent tuning stability courtesy of Schaller M6 Silver machine heads with polished ebony buttons and a highly precise 1:18 gear ratio.
High-rigidity Hiscox case
Maximum protection during transport is provided by a high-rigidity Hiscox case with polyurethane insulating foam that shields the instrument from changes in external climatic conditions.
Features
Body
| | |
| --- | --- |
| Available body shapes | D, Dc, G, Gc, OM, OMc, OOM, RS |
| Neck-to-body joint | At the 14th fret (OOM at the 12th fret) |
| Solid top - grade | Sitka spruce - AAA |
| Solid back and sides - grade | Indian rosewood - AAA |
| Binding | Black walnut with white line |
| Purfling | Padauk with black and white line |
| Rosette | Solid black walnut ring with black and white line |
| Bridge | Ebony |
| Bridge pins | Ebony with pearl eye |
| Saddle | TUSQ fully compensated |
| Bridge string spacing | 55 mm |
| Top finish | Full-Pore High-Gloss Finish |
| Back and sides finish | Full-Pore High-Gloss Finish |
| Pickguard | Anti-Scratch - transparent |
| Comes in | Hiscox hard shell case |
Neck
| | |
| --- | --- |
| Nut width | 45 mm |
| Available nut width | 43 mm and 48 mm |
| Neck reinforcement | CNR System with dual-action adjustment |
| Neck profile | Furch Soft V |
| Scale length | 650 mm |
| Fingerboard material | Ebony |
| Fingerboard radius | 400 mm |
| Fingerboard front inlay | White pearl Eclipse inlays |
| Fingerboard side inlay | White pearl position dots |
| Fret finish | Polished |
| Headstock overlay | Ebony |
| Fingerboard and headstock binding | Black walnut with white line |
| Neck material | African mahogany |
| Machine heads | Schaller M6 Silver - gear ratio 1:18 |
| Machine head buttons | Polished ebony |
| Zero fret | TUSQ |
| Nut string spacing (45 mm) | 38 mm |
| Nut string spacing (43 mm) | 36,6 mm |
| Nut string spacing (48 mm) | 40,1 mm |
| Strings | Elixir Ph-Br Nanoweb 12-53 |
| Neck finish | Full-Pore Smooth-Slide Satin Finish |
| Headstock finish | Full-Pore High-Gloss Finish |
Accessories
Available pickups
LR Baggs EAS-VTC - soundhole-mounted
LR Baggs Stagepro Element with tuner and equalizer - side-mounted
LR Baggs Anthem - soundhole-mounted
LR Baggs Stagepro Anthem with tuner and equalizer - side-mounted