Bc 61-CM 4
Western Red Cedar / African Mahogany
Four-string acoustic bass guitar made from solid woods.
Carefully select tonewoods.
Proprietary design features and production technologies, including proprietary soundboard design and the revolutionary Furch CNR System® neck joint.
Refined natural appearance featuring open-pore finish, faux tortoise body binding, and side white mother-of-pearl dot position markers.
Fretted or fretless versions available.
Carbon footprint of Bc 61-CM 4
Before 36.5 kg
After 2020 14.6 kg
The Bc 61-CM 4 is a solid-wood acoustic-electric bass guitar engineered to deliver a superb sound. The soundboard features a proprietary construction that includes an unconventional soundhole designed to enhance low-end response. The combination of an western red cedar soundboard and African mahogany back and sides produces a perfect tonal balance. The bass comes with a pickup and LR Baggs Element Active System – Volume Tone Control electronics.
Remarkable sound
Sound is the most important consideration for Furch guitars. Their excellent acoustic qualities are the result of state-of-the art technologies, proprietary production processes and precision craftsmanship combined with the use of the best available tonewoods. The Bc 61-CM 4 is no fluke. Hear its exceptional sound quality for yourself with Tonepedia's app. You can compare its unique sound with other Furch models and also guitars from other manufacturers.
Open-Pore Finish
The Bc 61-CM 4 features Open-Pore Finish, a special thin finish that promotes the natural sonic qualities of tonewoods and provides an excellent level of surface protection. The finish accentuates low frequencies and produces a natural woody sound.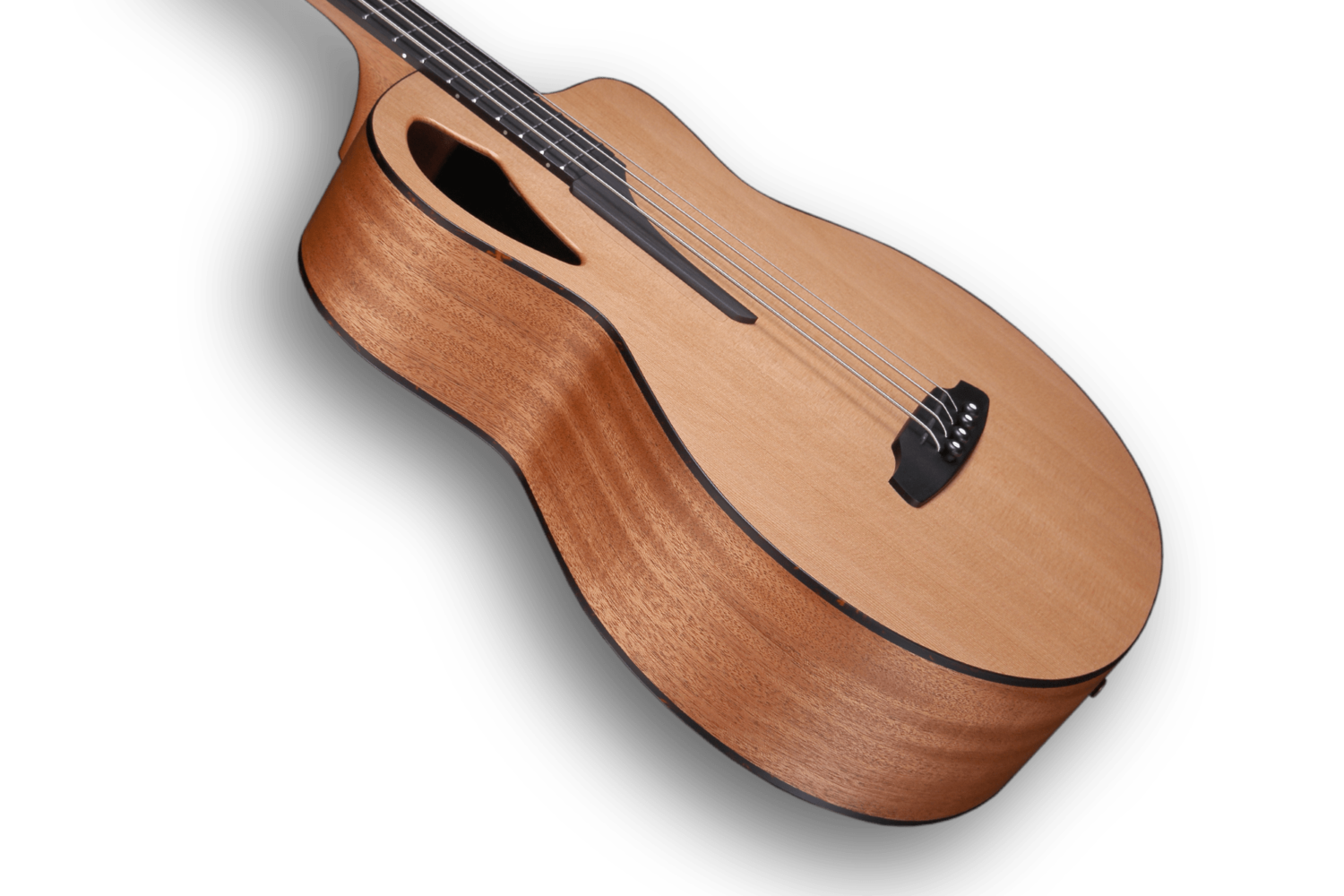 Stylish binding
The bass owes its stylish appearance to binding made from faux tortoise.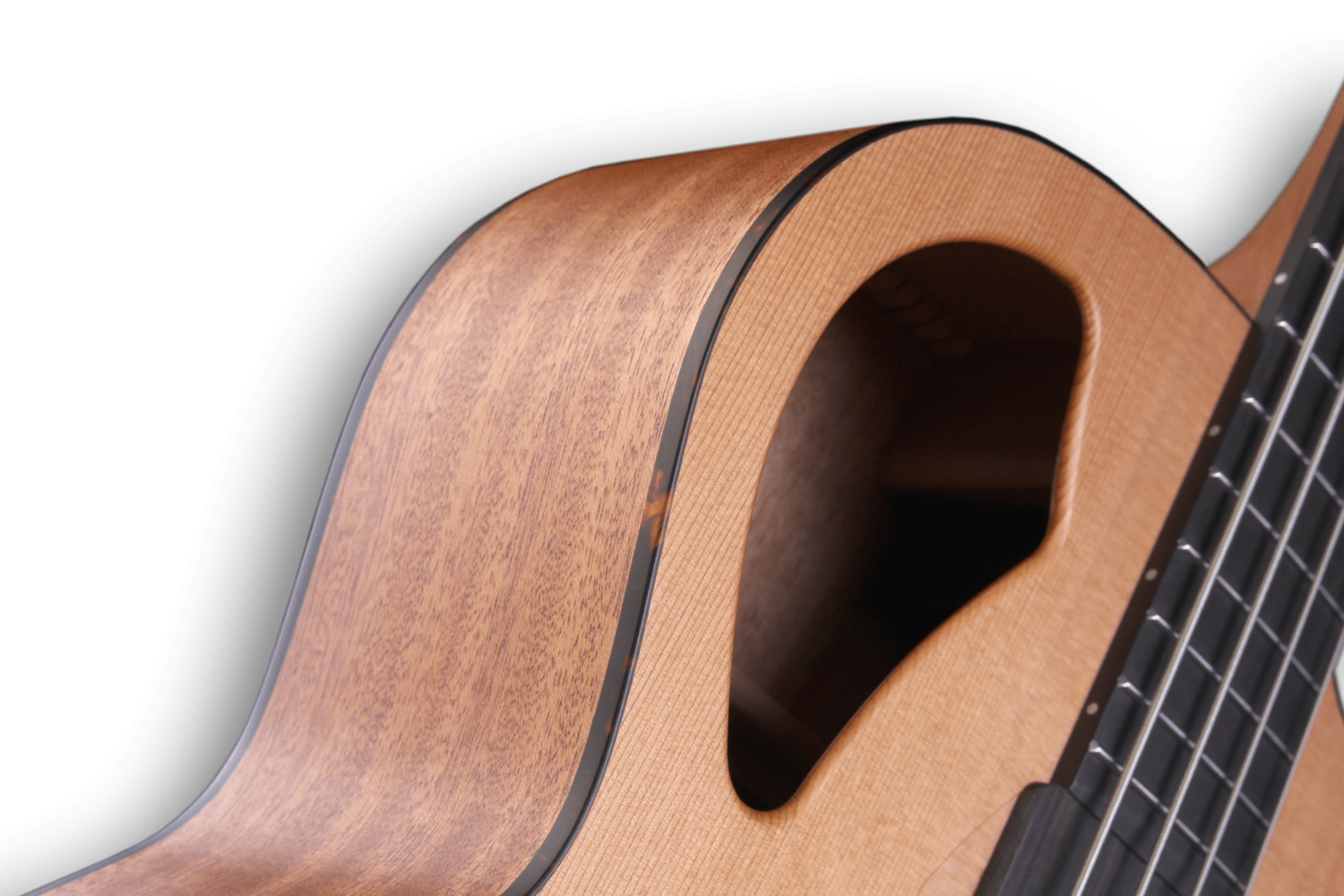 Furch CNR System® Neck Design
A high precision, dual-action truss rod maintains neck stability and allows for fine adjustment of the neck relief, bilaterally. The truss rod is housed in a highly rigid carbon casing which enables a very smooth and controlled neck relief, ensuring the best playability and enduring optimal setup.
A fully adjustable dual-action truss rod for highly precise adjustment of the neck bow in both the convex and concave directions.
A highly rigid carbon casing that maintains the neck in the set position over a period much longer than is the case with standard neck joint designs and, at the same time, facilitates a gradual bow in the neck, a factor of essential importance for playability.
A casting made of special alloy located inside the neck heel that ensures a stable position of the neck and its angle vis-à-vis the body.
Fretless version
The Bc 61-CM 4 is also available as a fretless version which can produce tones approximating those of a double bass.
Excellent machine heads
The bass has an excellent tuning stability courtesy of Furch Machine Black Chrome machine heads with a highly precise 1:18 gear ratio.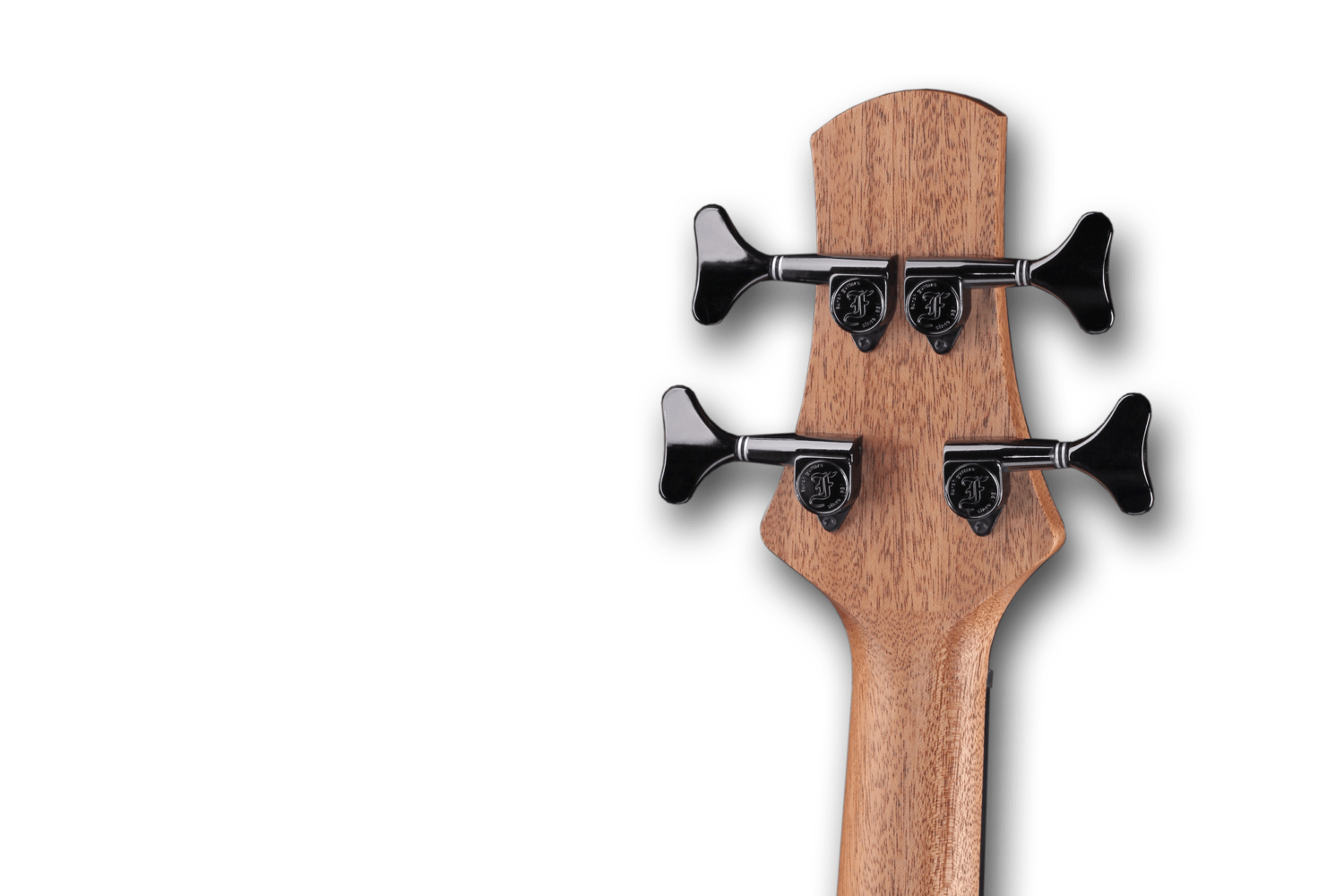 LR Baggs EAS-VTC
The Bc 61-CM 4 comes with LR Baggs EAS-VTC pickup, which features an all-discrete preamp fitted inside the guitar and a volume control mounted in the soundhole for easy access. The system faithfully reproduces the instrument's acoustic voice with an unrivaled dynamic range.
Features
Body
| | |
| --- | --- |
| Available body shapes | Bc |
| Neck-to-body joint | 15th fret |
| Solid top - grade | Western red cedar - AA |
| Solid back and sides - grade | African mahogany - AA |
| Binding | Faux tortoise |
| Bridge | Ebony |
| Bridge pins | Black with white eye |
| Saddle | Black TUSQ |
| Bridge string spacing | 2 1/4 |
| Top finish | Open-Pore Finish |
| Back and sides finish | Open-Pore Finish |
Neck
| | |
| --- | --- |
| Nut width | 1 39/64 |
| Neck reinforcement | CNR System with dual-action adjustment |
| Neck profile | Furch Bass D |
| Scale length | 33 7/8 |
| Fingerboard material | Ebony |
| Fingerboard radius | 15 3/4 |
| Fingerboard side inlay | White pearl position dots |
| Fret finish | Brushed |
| Headstock overlay | Ebony |
| Neck material | African Mahogany |
| Machine heads | Furch Machine Black Chrome - gear ratio 1:18 |
| Zero fret | Black TUSQ |
| Nut string spacing | 1 1/4 |
| Strings | Elixir Bass Nickel Plated Steel Nanoweb 45-100; D`Addario Chrome XL Flat Wound 45-100 (fretless) |
| Neck finish | Open-Pore Finish with antibacterial additive |
| Headstock finish | Open-Pore Finish |
Accessories
Compatible gigbag/case
High-protection gigbag
Available pickups
LR Baggs EAS-VTC - soundhole-mounted / integral to instrument