GNc 2-SW
Sitka Spruce / Black Walnut
High-quality acoustic guitar made from carefully select solid woods.
Proprietary design features and production technologies, including soundboard voicing and the revolutionary Furch CNR System® neck joint.
Stylish natural appearance featuring a double ring rosette with black walnut inlay, faux tortoise body binding, a transparent pickguard, and side mother-of-pearl dot position markers.
Carbon footprint of GNc 2-SW
Before 28.5 kg
After 2020 11.4 kg
Our Grand Nylon series combines two guitar worlds, the sound and lightness of playing the classical guitar and ergonomic features of a neck of steel string guitars. The GNc 2-SW model has a Sitka spruce soundboard and black walnut back and sides. These tonewoods give the guitar not only a pleasing musical sound, but also a gorgeous natural look. A time-proven body design and internal bracing pattern translate into an optimal balance of volume, sustain, and dynamics.
Remarkable sound
Sound is the most important consideration for Furch guitars. Their excellent acoustic qualities are the result of state-of-the art technologies, proprietary production processes and precision craftsmanship combined with the use of the best available tonewoods. Furch GNc 2-SW guitar is no fluke. Hear its exceptional sound quality for yourself with Tonepedia's app. You can compare its unique sound with other Furch models and also guitars from other manufacturers.
Unique voicing process
The premium nature of Furch GNc 2-SW guitar is underscored by the fact that the soundboard is individually tuned using the voicing process, which enhances the instrument's tonal properties to the highest level. Thanks to that, Furch GNc 2-SW guitar has a crystalline clear, harmonically rich, balanced, and highly dynamic sound across the entire tonal spectrum.
Open-Pore Finish
The instrument features Open-Pore Finish, a special thin finish that promotes the natural sonic qualities of tonewoods and provides an excellent level of surface protection. The finish accentuates low frequencies and produces a natural woody sound.
Attractive look
The attractive look of Furch GNc 2-SW guitar is underscored by a rosette featuring double ring with black walnut inlay and body binding made from faux tortoise.
Furch CNR System® Neck Design
A high precision, dual-action truss rod maintains neck stability and allows for fine adjustment of the neck relief, bilaterally. The truss rod is housed in a highly rigid carbon casing which enables a very smooth and controlled neck relief, ensuring the best playability and enduring optimal setup.
A fully adjustable dual-action truss rod for highly precise adjustment of the neck bow in both the convex and concave directions.
A highly rigid carbon casing that maintains the neck in the set position over a period much longer than is the case with standard neck joint designs and, at the same time, facilitates a gradual bow in the neck, a factor of essential importance for playability.
A casting made of special alloy located inside the neck heel that ensures a stable position of the neck and its angle vis-à-vis the body.
Satin transparent protection
The soundboard of Furch GNc 2-SW guitar is protected by a satin transparent pickguard that allows the natural beauty of the wood to shine through. The pickguard is designed to have no effect on the tonal qualities of the soundboard.
Excellent machine heads
The guitar has an excellent tuning stability courtesy of Schaller Hauser Chrome machine heads with polished ebony buttons.
Maximum protection
For maximum protection during transport, we highly recommend to provide every new Furch guitar with a high-rigidity Hiscox case with a highly impact-resistant ABS outer shell and interior polyurethane padding, or with the first-class gigbag with additional shell reinforcements in the walls, and other special features for comfortable carrying on the shoulder, in hand, or as a backpack.
The Hiscox case can be purchased for a suggested retail price of $ 303, and the gigbag for a suggested retail prices of $ 91.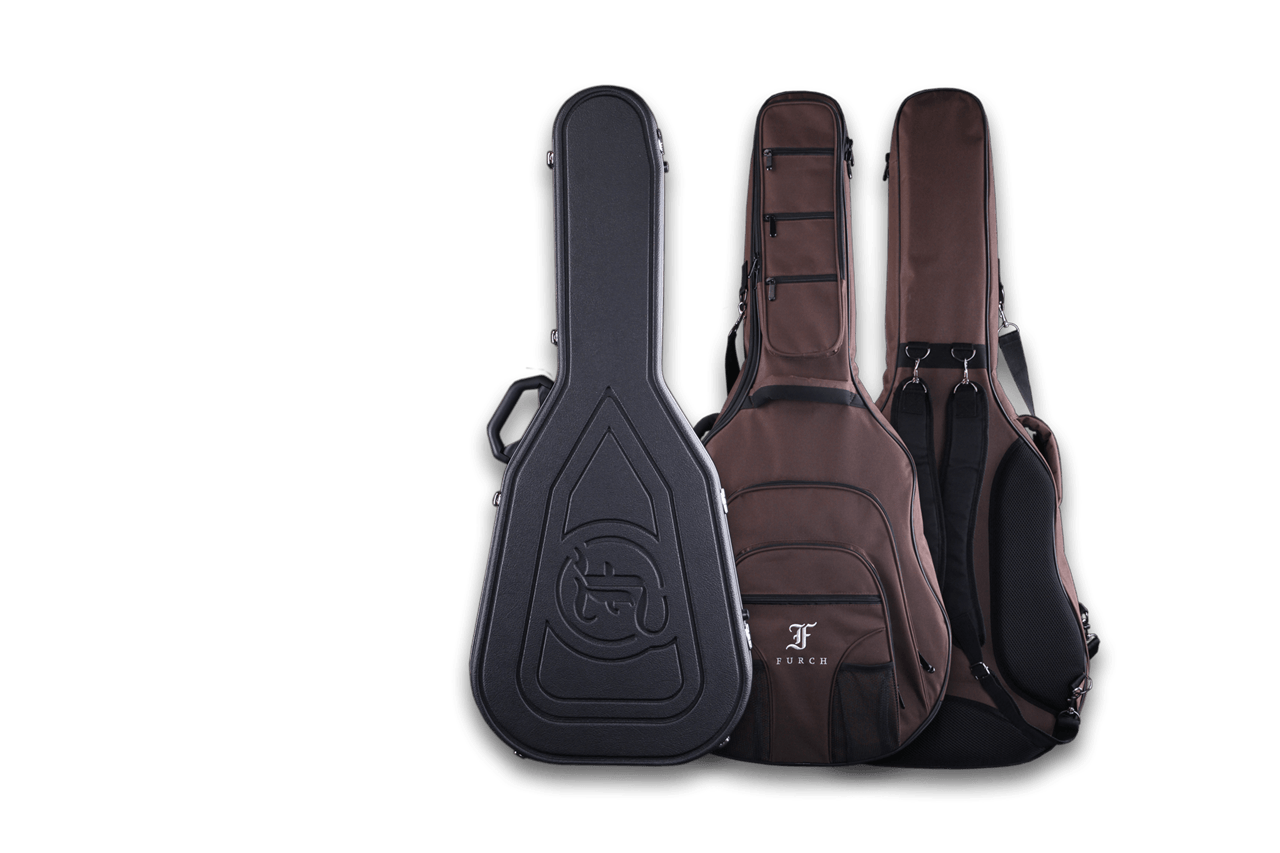 Features
Body
| | |
| --- | --- |
| Available body shapes | GNc |
| Neck-to-body joint | 12th fret |
| Solid top - grade | Sitka spruce - AA |
| Solid back and sides - grade | Black walnut - A |
| Binding | Faux tortoise |
| Purfling | Black and white lines |
| Rosette | Double ring with black walnut inlay |
| Bridge | Ebony |
| Saddle | TUSQ Black |
| Bridge string spacing | 2 3/16 |
| Top finish | Open-Pore Finish |
| Back and sides finish | Open-Pore Finish |
| Pickguard | Satin transparent |
Neck
| | |
| --- | --- |
| Nut width | 1 3/4 |
| Neck reinforcement | CNR System with dual-action adjustment |
| Neck profile | Furch Soft V |
| Scale length | 25 9/16 |
| Fingerboard material | Ebony |
| Fingerboard radius | 15 3/4 |
| Fingerboard side inlay | White pearl position dots |
| Fret finish | Brushed |
| Headstock overlay | Ebony |
| Neck material | African mahogany |
| Machine heads | Schaller Hauser Chrome – gear ratio 1:16 |
| Machine head buttons | Polished ebony |
| Zero fret | Black TUSQ |
| Nut string spacing | 1 1/2 |
| Strings | Savarez Alliance 500AJ HT |
| Neck finish | Open-Pore Finish with antibacterial additive |
| Headstock finish | Open-Pore Finish |
Accessories
Compatible gigbag/case
High-protection gigbag / suggested price: $ 91
Hiscox hard shell case / suggested price: $ 303
Available pickups
LR Baggs EAS-VTC Nylon - soundhole-mounted / suggested price: $ 248